Racing for Life
On the racetrack as in the cancer annals, "Fast Jack" Beckman has beaten the odds.
Not too many of us would argue that piloting a three-million-dollar-per-year, ultra-supercharged automobile at speeds exceeding 320 miles per hour over a short, quarter-mile track requires nerves of steel. Nor is anyone likely to quibble that doing so while undergoing treatment to combat life-threatening cancer takes an extra measure of courage—and a pure iron will.
But that happens to be exactly what world record-holding racecar driver Jack Beckman's life was like for several years, following his diagnosis of Stage III lymphoma.
Beckman's cancer story, like his career as a world-renowned drag racer, is a fascinating one, replete with all the low and high points, twists and turns, sorrows and joys, that, as Beckman himself believes, " . . . would be difficult for anyone who hasn't gone through this to fully understand."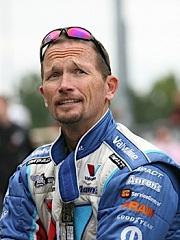 Vision quest
When Jack Beckman was seven and living in California, his uncle escorted him and his brother, Ted, to the drag races at Orange County International Raceway. As he describes it, he was immediately hooked. "It was everything," Beckman recalls. "The way the cars shook the ground, the smell of the race fuel, the way they looked going down the track . . . to a 7-year-old, these guys were 10 feet tall, and you could get within two feet of them down in the pit."
As much as the sport captured his imagination, though, it didn't immediately occur to Beckman that he would become a racecar driver himself. After going through what he now calls a "lost period of my life," and dropping out of high school, he enlisted in the Air Force. Once his service hitch was up, and after earning his GED, he spent the next 12 years as an elevator mechanic. Racing was never too far out of his thoughts, however. At 19, while he was still in the Air Force, he made his first run down the drag strip in Lubbock, Texas, driving a 1968 Ford El Camino, a vehicle that he still owns today.
Following that win, Beckman's career took off like a dragster peeling off the starting line. He accumulated race win after win, and his fame as an exceptional practitioner of the daredevil sport grew apace. As of March 2010, Beckman had nine career NHRA National Event Championships to his credit, and, at this writing, Beckman and his team, Don Schumacher Racing, are leading in wins and points for the 2012 season. Recently, at a Pennsylvania race track, Beckman set the world record for drag racers, when he was clocked at 320.58 mph over a mere, 1,000-foot course.
Life-altering diagnosis
In May, 2004, coming off a remarkable race-winning year the prior year, Beckman was issued the biggest challenge of his life when he was diagnosed with Stage III lymphoma. Cancer had been a particularly grim specter in Beckman's world, since his mother succumbed to the disease in 1994, when she was just 50. "By far, it was the toughest thing I've ever been through in my life," he says.
But, Beckman, who's now 46, says, because his mother had been a longtime smoker, she had some "cause and effect."
"I, on the other hand, was 37 years old, worked out four to five times a week, ate healthy, never smoked and was a moderate social drinker," Beckman notes. "There didn't seem to be any reason that I should have gotten cancer."
Complicating matters was the fact that Beckman's diagnosis was a long, bewildering time coming. He had been feeling out of sorts since 2003, but it took him more than a year to finally get to the root of the problem. "It was almost like having a cold that I couldn't shake—I just couldn't seem to get rid of it," he recalls. "I thought that maybe it was caused by some of the stress of competing for the world [racing] championship in the Sportsman's category while, at the same time, working a fulltime job."
The next year, Beckman began experiencing intense kidney pain. "I kept going back to the doctor's, and they couldn't find anything wrong," he says. "They thought it might be a kidney stone, a urinary tract infection, you name it."
Over several months, it reached a point where Beckman was in so much pain, and so weary of doctors' theories as to what might be ailing him, that when his cancer diagnosis was finally confirmed, it was something of a relief to know once and for all what it was he was suffering from. "Looking at the results of a CT scan, he [the doctor] said very matter-of-factly, 'Okay, you've got lymphoma and we need to start chemotherapy.' I was in so much pain at the time that I was numb to what he was saying. He was literally reading from a paper. I interrupted him and asked, 'Wait a minute—lymphoma's a cancer, right?' And he replied, 'Yes, you've got cancer.'"
The CT scans had revealed a number of tumors on the left side of his body, ranging from his neck to his pelvis. The cancer causing them, Beckman learned, was extremely aggressive and fast-growing. His only chance of survival was to undergo a punishing treatment regimen, with massive doses of chemo delivered over a grueling, six-month schedule. As Beckman explains, "My doctor said, 'We can't just treat this with a little bit of chemo; we have to hammer it.' He also said, 'Either the chemo will kill you, or it'll kill the cancer.'"
'Auto' therapy
At the time, Beckman—who wasn't yet a professional racer—was working as an instructor and mechanic at a drag-racing school. Almost incredibly, during his entire six-month cycle of chemotherapy, he only missed two days of work. "Having that job to do gave me a sense of purpose—of joy—and helped keep my mind off the cancer," he explains.
Beckman drove what in drag-racing parlance is called a "funny car," a class of drag racers with forward-mounted engines and carbon fiber bodies suspended over the chassis, giving them an oddly hunched, "funny" appearance. In the early days of his illness, he felt too sick to drive himself to the track, but, once he arrived there, he'd strap himself inside his "funny" car and drive at speeds exceeding 200 mph with no difficulty. "It absolutely gave me a light at the end of the tunnel," he recalls. "If I was going to make it through the treatments and survive, one of the measures that was going to help me do that was to keep my mind focused on positive things." On the other hand, he adds, if he wasn't going to make it, he didn't want to feel that he had missed out on engaging in those activities that he so loved and enjoyed.
He credits his ability to stay active and upbeat with some of the training he received as an aspiring racecar driver—training that, as an instructor, he'd also imparted to hundreds of aspiring drivers. "We learned about how people worked—how conscious and subconscious thought played into it, as well as learning to control our emotions, having a game plan, visualization . . . all those things that would tend to help you in the racecar helped me deal with the illness and the chemotherapy."
Family boost
Another remarkable event that occurred during Beckman's cancer treatments was beginning a romance with his wife, Jenna. Also a racecar driver, Jenna and Beckman met when the two would "pit" next to each other during races. They became fast friends. "She took me to a couple of chemotherapies, and when my hair started falling out, she even shaved my head," Beckman says. "It wasn't until after my last treatment that we began dating." The couple was married two years later.
One notable bit of luck that Beckman is thankful for: the massive doses of chemo did not render him sterile, as treatments often will in such cases. Although he took his doctor's advice and froze samples of his sperm as a precaution, he and Jenna were both gratified to discover that he was fully capable of fathering their two children—Jason and Layla—through more conventional means.
Beckman completed his 8-cycle chemo program in the fall of 2004. Since then, regular checkups have confirmed that his cancer is in full remission, a fact that he considers a state of grace and one that he's never taken for granted.
Spreading the word
Not surprisingly, since his cancer diagnosis, Beckman has been one of the more vocal, public voices of cancer awareness. He's committed himself to making hundreds of hospital and children's ward visits, both to comfort those who are suffering from the disease as well as to help educate the general public regarding the misperceptions and realities of the disease. In that vein, Beckman is now a spokesmen for Amgen, a California-based biopharmaceutical company, participating in its "Chemotherapy: Myths or Facts" campaign. In that role, Beckman and other cancer-surviving celebrities and personalities take a very public approach to debunking common misconceptions associated with chemotherapy, as well as encouraging patients and caregivers to take charge of their cancer journey by speaking openly with their doctors. "I don't have that Mother Theresa gene in me," Beckman offers, with characteristic humor and humility, "I just find that because of my experience, I'm a pretty useful tool for talking to people who are going through this."
Asked if he has one overarching message for people who, like he was, might be wrestling with a number of puzzling symptoms that don't seem to add up, Beckman is quick to respond. "Be your own advocate," he says emphatically. "Doctors aren't perfect . . . and going to get that CT scan on my own at the urging of a friend possibly made a huge difference in my outcome. If you're not comfortable with the information you're getting—go get more information."
Category: Survivors in the News
Tags: "Fast Jack" Beckman, CancerForward Survivor in The News, chemotherapy, CT scan, drag-racing, Jack Beckman, lymphoma, racecar driver